Easy Arroz Chaufa Recipe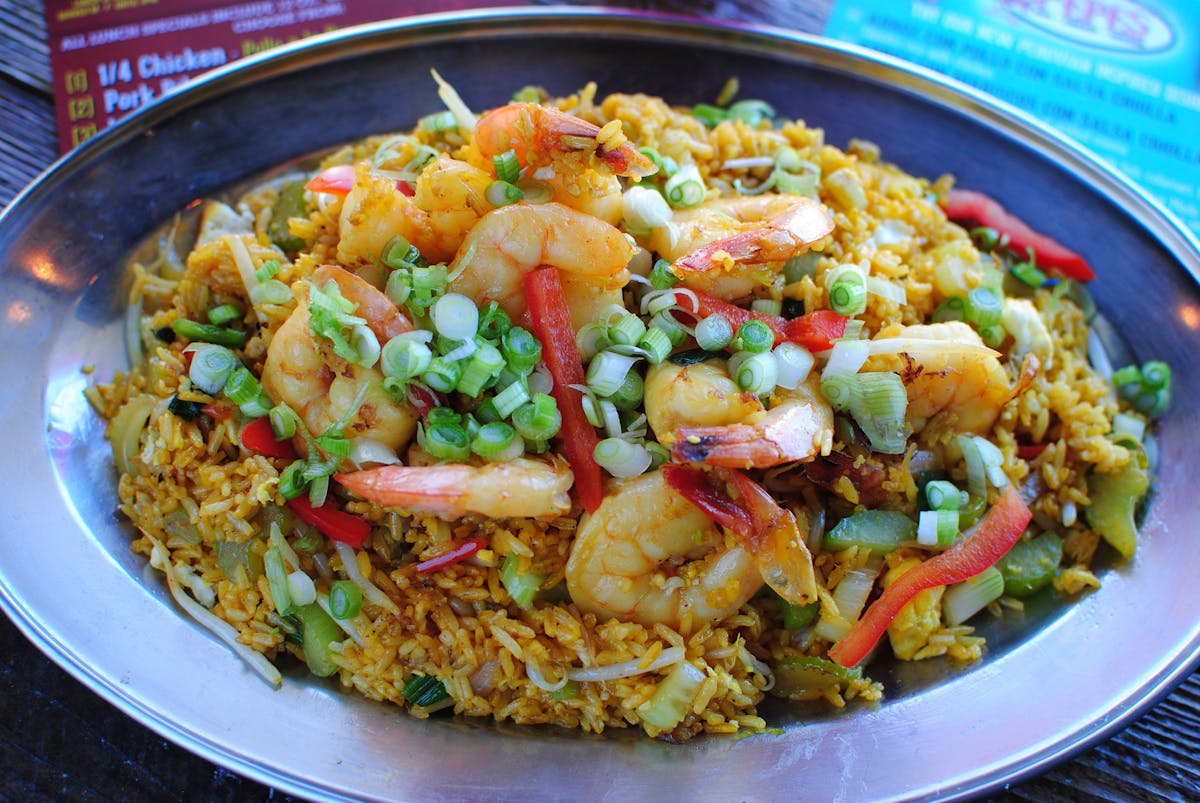 Make Arroz Chaufa (Peruvian Fried Rice) in 5 Minutes!
Arroz chaufa is one of Peru's most popular rice dishes. A great family-style lunch or dinner inspired by Peruvian and Chinese cuisine, this Peruvian fried rice dish is a beloved staple for good reason! It's easy to make, tasty and satisfying, and its ingredients are easy to find in your pantry or at the store.
Keep reading to learn more about arroz chaufa and find out how to whip it up at home. (It only takes 5 minutes!)
History of Arroz Chaufa
As we've explained in our blog about Peruvian dishes and history, Peruvian cuisine represents the ultimate fusion between many different food cultures. Historically, waves of immigration to Peru brought an influx of various cultures—ranging from Chinese and Japanese to African, Amerindian, and mestizo. As a result, Peruvian cuisine features beautiful blends of tastes, ingredients, and traditions.
One example of this delicious fusion is chifa–a blend of Peruvian and Chinese cuisine. Both of these cuisine's flavor profiles shine through in arroz chaufa. Fun fact: "Chaufa" actually gets its name from chifa; a "chaufero" is a cook who specializes in chifa cuisine.
Feeling hungry? Let's dive into an easy, 5-minute arroz chaufa recipe you can make at home. You'll be a pro chaufero in no time!
5-Minute Arroz Chaufa Recipe
Here's what you'll need to make arroz chaufa with ease:
Ingredients
4 cups of rice, cooked
3 eggs
1 bunch of scallions, chopped
1 red pepper, diced
1 tablespoon of ginger, chopped
1 cup of chicken, pork, or another protein source, shredded
3 tablespoons of soy sauce
4 tablespoons of sesame oil
How-To
Step 1: Heat 2 tablespoons of oil in a large pan or wok. Whisk eggs, adding a pinch of salt and ground pepper.
Step 2: Gently pour eggs into the hot oil. Fry 1-2 minutes, then turn over and cook on the other side. When cooked through, place the eggs on a plate, coarsely chop, and set aside.
Step 3: Add soy sauce and sesame oil to the pan over medium heat. Then add the red pepper, ginger, and scallions. Sauté for 2 minutes.
Step 4: Add rice and your protein of choice. Cook for 3 to 5 minutes.
Step 5: Serve hot and enjoy!
Try Arroz Chaufa from Pepe's BBQ
Pepe's BBQ is New Jersey's premier destination for authentic Peruvian BBQ and cuisine. Whether you're craving arroz chaufa for a family-style dinner or you're looking for dishes to accompany your homemade Peruvian fried rice, we're happy to serve you.
Check out our menu, call us at (973) 736-1567, or order online to satisfy your cravings now!