Fast & Authentic Salchipapas Recipe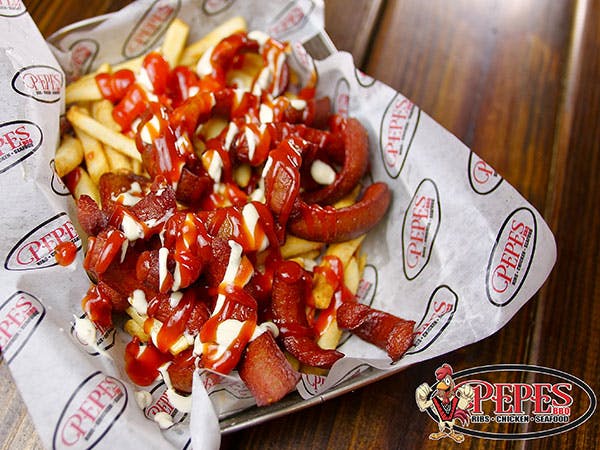 How to Make Salchipapas, A Delicious Peruvian Street Food
Have you ever heard of salchipapas? Chances are, if you've visited Pepe's BBQ before, you may have seen this delicious item right here on our menu.
If not, get ready to discover your new favorite street food: a classic savory snack you're sure to see on the streets of every town in Peru. Initially invented in Lima, this dish's popularity has spread beyond Peru to Ecuador, Bolivia, and Argentina. It's now sold by many fast-food vendors and beloved by many fast-food diners throughout Latin America.
Keep reading to learn more about this dish's history and find out how to make salchipapas in just five easy steps!
What is Salchipapas?
The name "salchipapas" comes from a combination of two Spanish words: salchichas, meaning "sausages," and papas, meaning "potatoes." Put them together, and you get the essence of the dish—hot dogs and potato fries. At Pepe's, our satisfying salchipapas dish follows Peruvian street food tradition, featuring sliced hot dogs mixed with French fries and served with ketchup and mayo.
Today, we're sharing a fast and authentic salchipapas recipe for you to try making at home for your friends, family, or even just for yourself. Let's dig in!
Try Pepe's BBQ's Quick & Easy Salchipapas Recipe
This recipe is easy to whip up in a flash. Serves 2.
Prep time: 15 minutes
Cook time: 20 minutes
Total: 35 minutes
Ingredients:
1 large potato, peeled and cut into sticks
2 cups of oil for frying
Pinch of salt (to taste)
4 sausages (beef, chicken, pork, or veggie)
Ketchup
Mustard
Mayonnaise
1 tablespoon aji amarillo paste (to taste)
Chopped coriander or parsley leaves (optional, to garnish)
Instructions
First, heat the oil over high heat in a heavy saucepan.
Dry the washed potato sticks with paper towels. Gradually add to the pan and fry in the oil until golden. (If they are frozen ready-made French fries, heat them in an oven at 450°F for 18 minutes.) Sprinkle all with salt.
Meanwhile, cut the sausages in slices or rounds. Heat a teaspoon of oil in a skillet. Cook the sausages until browned and sizzling.
Next, combine sausage slices/rounds and fried potatoes in the same skillet.
Serve while hot with ketchup, mayo, mustard, and aji.
Garnish with parsley or coriander as desired. Enjoy!
Discover Delicious, Authentic Salchipapas at Pepe's BBQ
Salchipapas is a tasty treat for any occasion, but there's so much more deliciousness in store here at Pepe's BBQ. If you're craving the best Peruvian food in NJ, visit us in West Orange, order online, or call us at (973) 736-1567 to place your order now!