How to Make Ceviche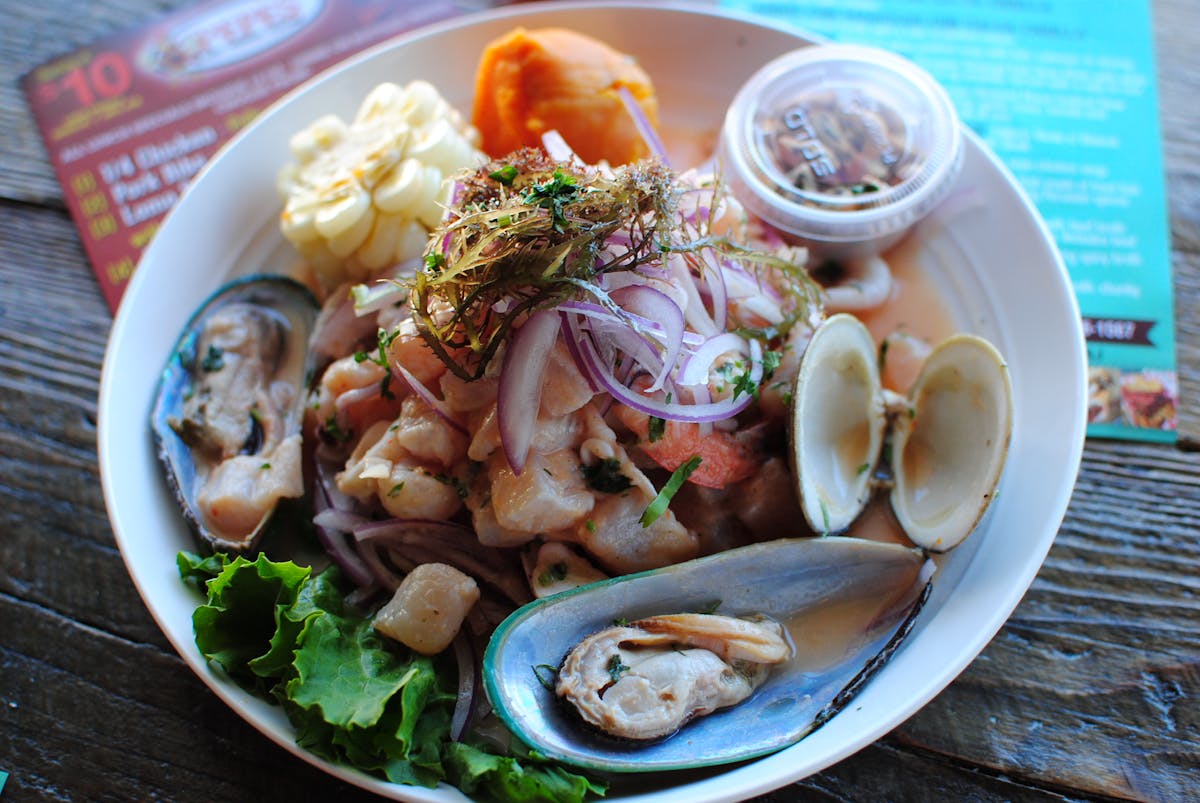 Learn How to Make Ceviche in 8 Easy Steps
What's healthy, delicious, and easy to whip up in a flash?
If ceviche wasn't your first guess, we're about to change that. Not sure what ceviche is? You can read all about the history of Peruvian ceviche before diving in.
Keep reading to learn how to make ceviche in just 8 steps with this easy ceviche recipe from Pepe's BBQ!
Different Types of Ceviche
At Pepe's BBQ, we've got a different dish for everyone's personal taste. We promise to deliver the most authentic Peruvian flavors from the freshest local seafood and produce available.
Whenever you're in West Orange, NJ next, try out one of these delicious delights to be transported straight to Peru!
Ceviche de pescado – Fish ceviche
Ceviche de camarones – Shrimp ceviche
Ceviche mixto – Mixed seafood ceviche
Now, let's dive into the recipe, starting with the key ceviche ingredients you will need.
Traditional Ceviche Ingredients
Traditional ceviche ingredients include fish, citrus fruits (typically lemon or lime), and seasonings or garnishes.
Ingredients for Pepe's Easy Ceviche recipe:
2 pounds of white fish fillet (such as Mahi-Mahi), deboned
½ cup of freshly squeezed lemon juice
½ cup of freshly squeezed lime juice
1 small purple onion
3 medium peppers, such as habanero red peppers
½ cup of fresh coriander
1 teaspoon of grated ginger
Salt to taste
Ingredients for garnishes and sides:
2 medium sweet potatoes
1 cup of yellow corn
Plantain chips
Pepe's Easy Ceviche Recipe
Here's how to make our easy ceviche:
Step 1:
Once you've gathered all the ceviche ingredients, prepare the fish. Wash and dry the mahi-mahi, then remove any remaining skin, scales, or bones. Cut it into small cubes of equal size (approximately ½ inch), focusing on lean flesh. Set aside.
Step 2:
Wash the lemons and limes, then squeeze their contents into a large bowl. Strain the juices to remove any seeds.
Step 3:
Place the cubes of fish into the citrus juice, ensuring all flesh is covered. This process will marinate and "cook" the fish. Cover the container and store in the fridge for 20-30 minutes, turning the fish sporadically to make sure each piece is cooking.
Step 4:
As the fish is cooking, prepare the garnish for the ceviche. Wash the sweet potatoes with a clean vegetable brush and place them in a steamer for 30 minutes or until tender. Then, remove the skin and cut them into large pieces.
Step 5:
Next, peel the plantain and cut it in half before cutting it into thin strips—you can use a potato peeler for this. Heat oil in a pan and deep fry the plantain strips. When they are ready, carefully remove them from the oil and place them on a plate covered with a paper towel to soak up excess oil.
Step 6:
Wash the onion and the peppers. Deseed the peppers and cut them into small squares. Then, peel the onion and slice into thin strips. Chop the coriander.
Step 7:
At this point, the ceviche can be removed from the fridge. Be sure the fish looks cooked (it should appear opaque and able to flake apart). Add the onion, chili, coriander, ginger, and salt to taste. Stir, then cover the ceviche and let it sit in the fridge for 10 minutes.
Step 8:
Finally, the moment you've been waiting for! Remove the ceviche from the fridge, serve with fried plantains and sweet potatoes, and dig in!
Find Ceviche and More at Pepe's BBQ
Now that you know how to make ceviche with ease, it's time to taste the other scrumptious cuisine Peru has to offer. For the best Peruvian food in NJ, visit Pepe's BBQ in West Orange, order online, or call us at (973) 736-1567 to place your order now!