What is Peruvian Ceviche?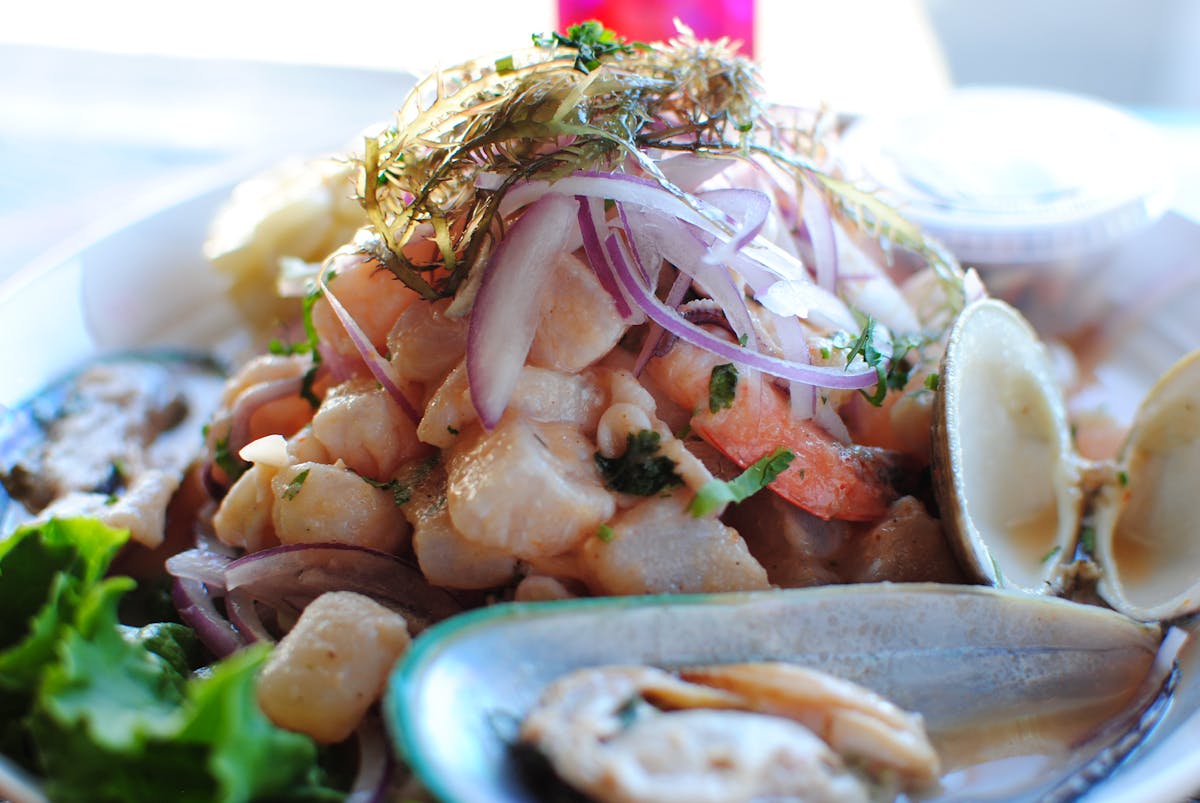 The History of Ceviche in Peru
If you're a lover of Latin American cuisine, chances are you may be wondering about the differences between Peruvian ceviche and other countries' versions. Or maybe you've encountered the word "ceviche" for the first time in a crossword puzzle, and you're curious to learn more about this unique dish with a beautiful name.
Either way, you've come to the right place. Let's dive into the history of ceviche and discover why this old world classic is here to stay!
What is Ceviche?
Ceviche, seviche, sebicher, and cebiche all refer to the same thing: a delicious South American seafood dish originally from—you guessed it—Peru. The dish's birthplace is highly disputed in the food world as originating between Peru and Ecuador, with both countries enjoying an amazing variety of native fish and shellfish. Most likely, the history of ceviche began with the ancient Inca civilizations occupying both areas.
Typically, ceviche is made from fresh raw fish cured in the juices of citrus fruits, most commonly lemon or lime. When the fish encounters the citrus juice's acid, it becomes opaque and firm—similar to the effect of "cooking" the fish.
After curing, traditional Peruvian ceviche is spiced with seasonings including chopped onions, salt, coriander, chili peppers, and—of course—the beloved ají. It's often served with sweet potato over Peruvian corn, a traditional choice we've kept up with here at Pepe's BBQ.
Other countries' versions of ceviche may feature unique garnishes and twists; Ecuador, for example, serves up a unique shrimp ceviche including ketchup, lemon, and oil, while Mexico's ceviche may be served with diced tomato and onion.
When and How to Enjoy Peruvian Ceviche
Today, Peruvian ceviche delights the palettes of diners throughout South America and abroad. This dish is healthy, easy to make, and a beautiful way to highlight the freshness of local fish and shellfish. It can be prepared as a main course or as a stunning appetizer for a dinner party.
If you're looking for a simple way to impress your guests, try serving ceviche on a beautiful serving platter like a large glass dish topped with lettuce leaves. Individual servings can even be spooned into wide-mouthed martini glasses for a dramatic effect. Garnish with thin rings of red onion, sliced avocado, or assorted bell-peppers for a bright pop of color.
Order Peruvian Ceviche from Pepe's BBQ
Looking to experience the delights of this coastal delicacy, but don't have the time to make your own? You're in luck, thanks to Pepe's BBQ. At Pepe's, we're delighted to serve ceviche de pescado (fish ceviche), ceviche mixto (mixed seafood ceviche), and ceviche de camarones (shrimp ceviche)—all from the freshest fish and shellfish possible.
When you're ready to enjoy the best Peruvian ceviche in NJ, check out our menu, call us at (973) 736-1567, or order online to satisfy your cravings now!