Our BBQ Marinade Recipe for Pollo a la Brasa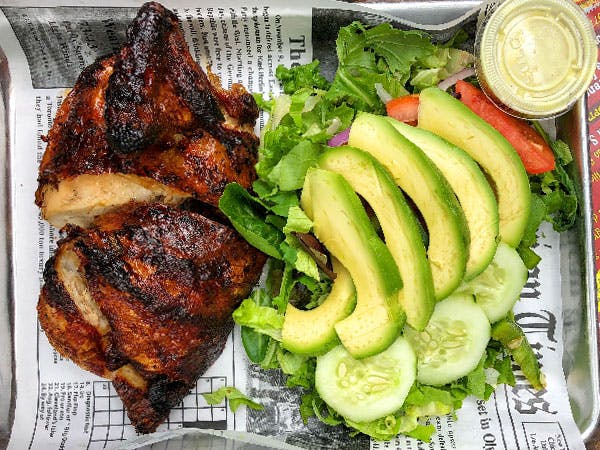 Prep for BBQ Season with Pepe's BBQ Marinade Recipe
Whether you're attending a birthday party, a family gathering, or a celebration with friends, there's one Peruvian dish that people can't seem to get enough of: pollo a la brasa.
This scrumptious blackened chicken is made with a special BBQ marinade recipe, roasted to perfection, and served with piping hot French fries, fresh salad, and delicious dipping sauces like ají verde. Today, we're sharing how to make Pepe's BBQ marinade for your own pollo a la brasa—just in time for summer.
Keep reading, then start grilling!
How to Make Our BBQ Marinade
You Will Need…
½ cup ground ají panca chili pepper
Salt, ground black pepper, paprika, cumin (to taste)
½ cup plain vinegar
½ cup soy sauce
½ cup vegetable oil
½ cup fresh garlic paste
1 cup dark beer (optional)
Instructions
One night before roasting, combine dry ground ingredients in a large bowl.
Add all the remaining ingredients for the marinade (vinegar, soy sauce, oil, dark beer, garlic) to the dry spices and seasonings.
Mix well. You've created the BBQ marinade!
How to Make Pollo a la Brasa
You Will Need…
1 whole chicken, giblets removed
Instructions
Once you've made the BBQ marinade, place your chicken in a large bowl or baking tray. Pour the marinade over it, making sure it covers the entire chicken (and doesn't spill out). Leave overnight in the fridge.
After the chicken has marinated overnight, it's time to grill! Prepare one side of your grill for high heat. If you're using wood or charcoal, make sure there is a cool side on your grill with little to no coals.
Sear the chicken pieces by laying them skin-side down on the hot side of the grill. Grill uncovered for 5-10 minutes, depending on the grill's heat. After searing, turn the chicken pieces over and move them to the grill's cool side. (You can get the same effect with a gas grill—just make sure only one side has a flame and that the temperature stays between 250°F and 275°F.) Cover and cook 20-30 minutes.
Turn the pieces over and baste with additional barbecue sauce as desired. Cover again and cook another 15-20 minutes.
Repeat the process, turning the chicken pieces, basting if needed, covering, and cooking for another 10-30 minutes.
Finish with a sear or remove from heat. Test for doneness with a meat thermometer. Chicken breasts are done when their internal temperature reaches 160°F; thighs are done when their internal temperature reaches 170°F. If you'd like, you can finish with a sear by putting the pieces skin-side down on the grill's hot side for an additional minute. Delicious!
Order Pollo a la Brasa NOW from Pepe's BBQ!
Craving pollo a la brasa, but don't have time to whip up our BBQ marinade and start the grill? We've got you covered. Order authentic Peruvian cuisine from Pepe's BBQ—your stomach will thank you later.
Check out our menu, call us at (973) 736-1567, or order online to satisfy your cravings now!