Pepe's Peruvian Lomo Saltado Recipe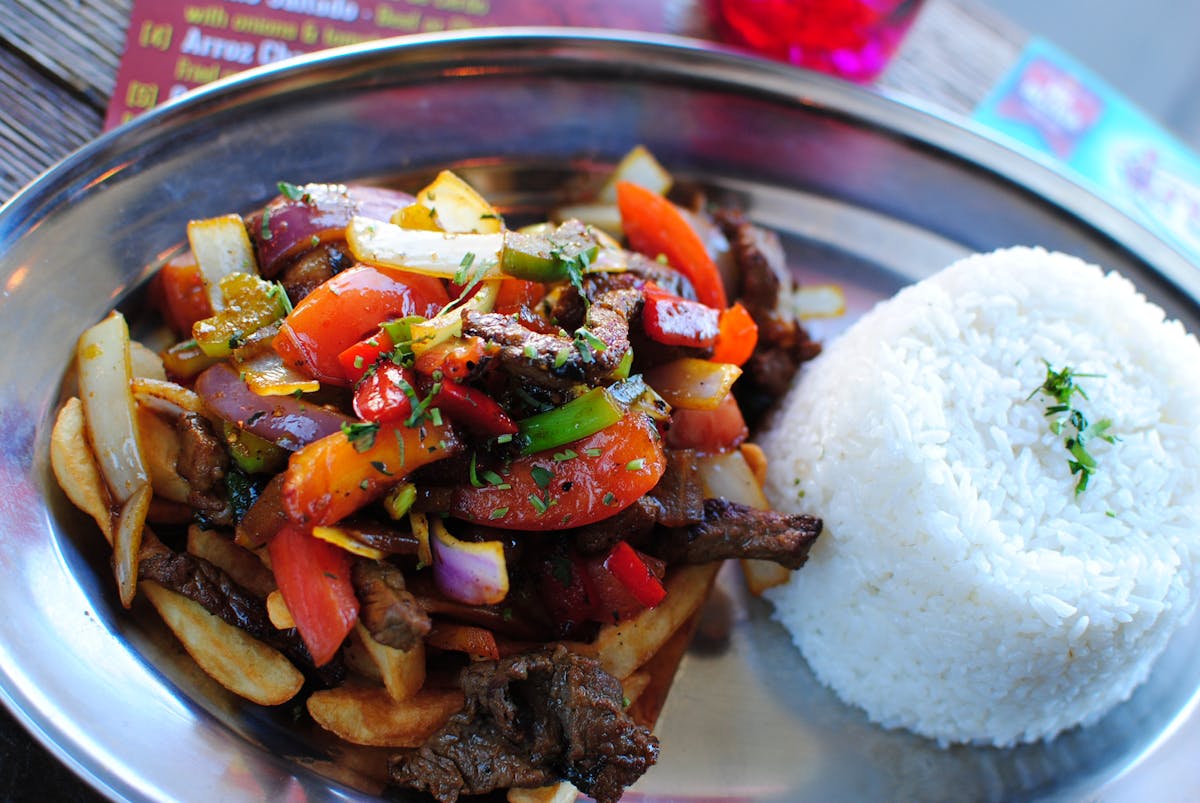 How to Make Lomo Saltado — A Peruvian Recipe
Nothing is more satisfying than delicious comfort food. That's why today we're teaching you how to make lomo saltado, a Chinese-inspired favorite from Peruvian cuisine.
With our Peruvian lomo saltado recipe, you'll be whipping up this dish with ease. All you need are just a few simple ingredients, a little prep and cooking time, and some creativity.
Let's learn more about the history of this dish and how to make lomo saltado!
What is Lomo Saltado?
Lomo saltado is a scrumptious Chinese-inspired dish featuring a beef and vegetable stir fry. Typically served with white rice and sizzling French fries, this dish is a feast for the senses, thanks to its mix of flavors, textures, and native and foreign ingredients.
In past blogs, we've mentioned chifa, a Peruvian culinary tradition fusing Chinese-Cantonese elements with traditional Peruvian ingredients and cooking methods. Many favorites from Peruvian cuisine—including arroz chaufa and lomo saltado—fall under the chifa tradition, blending flavors from Peru and China to create a uniquely satisfying meal.
Ready to get started with making lomo saltado at home? Here is a quick and easy recipe for you to try.
Pepe's Peruvian Lomo Saltado Recipe
Our recipe is simple, but you'll want to make sure you have prepared everything before cooking. Serves 2.
Prep time: 15 minutes
Cook time: 10 minutes
Total: 25 minutes
Ingredients
1 pound of sirloin steak, sliced thin
1 red onion, cut into thick slices
2 tomatoes, cut into thick slices
1 seeded and ribbed chili pepper
3 tablespoons of vegetable oil
2 garlic cloves, diced
Salt and pepper
3 tablespoons of soy sauce
3 tablespoons of red wine vinegar
½ cup fresh cilantro, finely chopped
2 cups of cooked French fries (served as a side dish)
Cooked white rice (served as a side dish)
Instructions
Season the sirloin steak slices with salt and pepper to taste.
Place a wok or frying pan over very high heat and add oil. Sautee the meat a few slices at a time (about 10 minutes each round) to brown until golden.
Add onion, garlic, chili pepper, and tomato to the pan and stir fry for a couple of minutes. Next, add soy sauce, vinegar, salt, and pepper to the pan.
Remove from heat, garnish with chopped cilantro, and serve with French fries and white rice.
Order Lomo Saltado from Pepe's BBQ Now!
Without a doubt, delicious lomo saltado is so easy to make at home. Plus, here at Pepe's BBQ, we're serving even more authentic Peruvian food for you and your family to try. Whether you're craving finger-lickin' good BBQ ribs or fusion-inspired chifa cuisine, visit us in West Orange, order online, or call us at (973) 736-1567 to place your order now!